MASS BALANCE TEST for Equipment
Mass balance test is one of the environmental measures in the semiconductor industry. It is the comprehensive analysis and measurements of the total amount of chemical, which will be the sum of consumption in the production, effluent and vaporized mist or gas exhaust, supplied to the process.
About above requirement, International SEMATECH Guidelines for Environmental Characterization of Semiconductor Equipment: 06124825B-ENG has been already issued.
In mass balance test for liquid chemical, it needs measurement techniques as well as better understanding semiconductor manufacturing process and grasp its process chemical. So it seems to be difficult for typical analysis company to conduct final mass balance test and prepare report. Safe Techno Limited is engaged in process safety design evaluation of the semiconductor industry for 15+ years, and also has abundant experience in chemical analysis and measurement, so please be assured.
FTIR (Fourier Transform Infrared Spectroscopy) Analysis
For environmental measures, FTIR analysis for process equipment (Wet Station, Coater, Etcher, CVD etc.) emissions characterization is adopting for mass balance test.
The following data is an example of the qualitative and quantitative analysis of the exhaust gas from the equipment during operation of semiconductor manufacturing equipment (SME). In MASS BALANCE TEST, real time qualitative and quantitative analysis of exhaust gas components from the equipment will be possible by using FTIR method.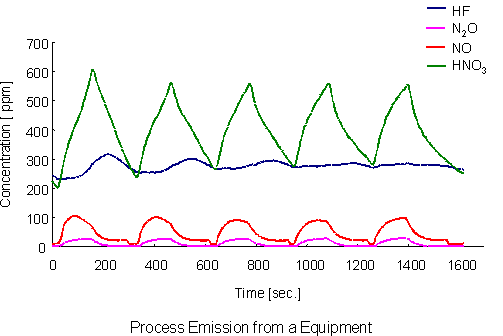 Recycling & Energy Conservation
Optimized exhaust flow rate & energy conservation
Recycling & POU research for chemicals in process exhaust & waste.
Worker Safety
Propose a system for worker safety & industrial hygiene.
Man-Machine interface
Protection from Toxic Chemicals/ Non-Ionizing radiations/ Laser Exposure etc.
Hazardous Energy Control
Emergency shut Down Systems
Latest biotechnologies Application research
Decomposition of toxic chemicals, Application of Immobilization Cell Technology, Bio-remediation for contaminated sewage, Soil decontamination.
Associated company : EcoCycle Corporation
SW Control System
Propose EHS linked equipment performance, control system safety & system harmonization for inter-operability.
SEMI CIM Frame Work & system risk reduction
WIP safety & recovery
Equipment Maturity, Inter-operability & performance
Facility expansion & system harmonization
Equipment EHS & fire protection safety measures
Propose SEMI S2/S8/S14/FE/IFC/CE conformance integrated optimum safety design & fire protection safety measures.
SEMI S2/S8/S14/FE/IFC/CE integrated optimum design
Non-Flammable Atmosphere verification tests & process safety
Explosive proof electrical design for avoiding "Class 1, Division 2 Hazardous Locations
SEMI S14 Fire Protection Safety Risk Assessment
Exhaust reduction & Optimum Safety in design and IFC compliance design