Consulting service for integrated optimal safety design, industrial hygiene and environmental protection for SME. Execution of Various Safety Verification Tests (i.e. Tracer Gas Test, Electrical Safety Test and EMC Test). Exhaust and waste effluents analysis and mass balance test for environmental protection. System design evaluation as a Third-party to verify non-conformance.
Third party EHS non-conformance verification service for the SME and FPD manufacturing equipment
based on applicable SEMI standards (i.e. SEMI S2, SEMI S8, SEMI S14, SEMI S17, SEMI S22, SEMI S26)
Consulting service for integrated optimal safety design for Photovoltaic manufacturing equipment and modules.
Generate a Technical Document File (TDF)/Technical Construction File (TCF) for CE Marking (Machinery Directives, Low Voltage Directives, EMC Directives)
Product certification program and Pre & Post Field Labeling service support in accordance to NRTL, North America and Canada.
Accreditation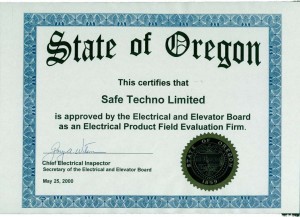 Oregon Approved Field Evaluation Firms
Qualification of Third Party